Preparing for Africa
So you're curious about traveling to Africa for a safari, or maybe to visit one of developed cities like Cape Town? Well, you've come to the right place! We chose to do a 12 day Serengeti safari in Tanzania followed by South Africa: 5 days in Cape Town and the Garden Route, 4 days in Kruger National Park, and 1 day in Johannesburg.
Research your Safari tour operator:
We filtered the list based on our requirements and contacted these folks for itineraries and quotes: Gosheni, Roy's, Easy Travel, Go2Africa, and SafariWise. We ended up with Gosheni Safaris. Peter, the owner, was very willing and patient to work with us on scheduling. The process is straightforward: give them your dates, what you want to see, and they will craft a day to day itinerary for you. You review and revise this itinerary until you are happy. This took us quite a few weeks to finalize. Your tour operator will give you options on places to visit, activities, lodging, and transportation. The sky is the limit here…and so are the prices! East African safaris are expensive, especially if you want mid to upper tier accommodations. If money is tight, you can choose to sleep in tents and use shared bathrooms.
Deciding on a private vs. group safari is also an important decision. Group safari's are likely discounted (as are non-peak season dates), but bear in mind some of the dis/advantages. Most group tours have set itineraries and dates. Most 4×4's have six seats, but six adults can get a bit cramped. Four is probably the ideal number. We sprung for the private safari and don't regret it.
Timing is also important. We planned our trip around the Great Migration of wildebeests and zebras, especially the Mara River crossing in the Northern Serengeti. This topic is so complicated that we dedicated an entire post on when is the best time to see the wildebeest migration and river crossings. We went late-August. The animals were supposed to be crossing at the time, but because the rains came early, a lot of them had already crossed the Mara River and into Kenya! Lucky for us we caught them crossing back to Tanzania. Timing of the seasons is also important because during the wet season, the grass grows too tall, making it difficult to spot and photograph animals.
How do I pay my Safari tour operator?
It feels strange to wire money to Africa, but that's what they request: "Payment terms 30% deposit, 100% 30 days before your arrival". It's a lot of money to be sending to some stranger, akin to the one time I wired money to a Nigerian prince who promised to return millions of dollars, just kidding. Well, Peter at Gosheni Adventures turned out to be legit, what a relief. I used my Charles Schwab account to wire the USD deposit to an Arusha bank (Schwab charges a flat $25 fee for wiring money).
Note 1: Safaris in Tanzania are very expensive, especially with the recent hike (July 2016) in the VAT tax on safari tours (18% VAT on tourism). Note 2: Tanzania sees about 1.1 million tourists each year.
Flights
Now that your safari tour is booked, go ahead and book your flights!
Notes:
Be cautious booking anything with any African airline. It is very difficult to change anything once you book. Buying flight insurance might be wise.

The continent of Africa is HUGE. The United States can fit inside Africa 3x. Prepare yourself for a lot of flight time.

Be vigilant about asking other people about the flight time and gate. Don't depend on the

airport video screens because they were often wrong.

Airports are malaria central, so cover up with long pants and sleeves, and spray yourself with deet.

Food looked terrible at all of the airports we visited. You've been warned.
Here is our itinerary:
SFO to DTW to AMS to JRO (Delta)

There are no direct flights from SFO to Kilimanjaro airport

Kogatende Airstrip to Arusha International (Air Excel Cessna type plane)

After the Serengeti Safari, we chose to fly back to Arusha instead of driving (saves a tremendous amount of time!)

JRO to ADD to JNB to CPT (Ethiopian Air)

Kilimanjaro Airport to Capetown

Rental car from CPT to PLZ (The Garden Route)

PLZ to JNB to MQP (South African Airlines, Airlink Airlines)

Port Elizabeth to Kruger International Airport

MQP to JNB (South African Airlines)

JNB to ATL to SJC (Delta)
Health
Call your travel clinic today and make an appointment. You'll need a few immunizations and of course, Malaria pills. We chose Malarone. You take Malarone 1 or 2 days before entering a malaria‑endemic area and continue daily during the stay and for 7 days after return. The other options had side effects we weren't keen on (ie weird dreams, antibiotics).
Yellow Fever (Bring the immunization proof card with you, they will check when you land in Africa!)

Typhoid Fever

Hepatitis A

Hepatitis B

Measles Mumps Rubella

Tetanus

Diptheria
Passport/ Visa
In Tanzania, you can buy your visa in the airport upon arrival ($100 USD per US Citizen) or ahead of time through the Tanzania Embassy.
South Africa – No need for a visa, if visiting for less than 90 days.
Make sure your passport is valid for 6 months (side story: you won't be allowed to leave the States if your passport is expiring in 6 months, and you do not want to go through the rush passport agency)

Do you have enough empty pages?

If you need to renew, remember to select the passport book with more pages option
Safety
At first we were hesitant to travel to Africa. Isn't Africa where everything big or small, can kill you? There are flesh eating bacteria, viruses, mosquitos, lions, hippos, crocodiles, Boko Haram, carjackers, the list goes on and on!
On the contrary, we had a wonderful and safe experience throughout our time in mama Africa. Our tour guide, Zadoc, took us everywhere, and knew everybody. Because we were in the Serengeti most of the time, there was nothing to worry about, except the wild animals.
The cities are a bit different, especially Cape Town and Johannesburg. We were traveling on our own via rental car. We could still feel the deep impact of apartheid. Because of the disparity between the rich and poor, crime is still very prevalent. Homes have high walls with barbed and electrified wires. There are private security cars patrolling the wealthier neighborhoods. Do you need to immediately buy a rocket launcher and bazooka at the airport when you arrive? Of course not! The media makes it seem more dangerous than it really is. Both Cape Town and Johannesburg are modern cities with good infrastructure. We didn't feel in danger in Cape Town, but we took more precaution in Johannesburg. Note: Traveling via rental car is ok. Roads are well maintained throughout all of South Africa. They are better than most roads in the USA! Gas stations are fairly safe. There are many attendants hanging around gas stations that fill up the tank and wash your windows. Act natural and tip them! I wouldn't feel comfortable traveling alone in Africa, so bring a friend.
Some common sense type advice:
Use a money belt, and don't flash your cash

Be cautious using ATMs

Don't walk around outside after dark

Use a tour guide when visiting townships

If you have a car, rent a hotel/ airbnb with a private gated parking space.

At night, don't stop at stoplights or be cautious
What do I pack on my trip to Africa?
We both travel light, and most of the time with backpacks. I like to pack clothing that is practical, which usually means I tend to look like a goober, dressed in ill fitting tacticool cargo pants, Patagonia jacket, and Tevas. The Mrs. has higher standards that prioritize both function and fashion, with an emphasis on the later. Our dream job would be to design travel clothing that is both functional, fashion-forward, and affordable. Patagonia please hire us!
Notes:
Mosquitos and especially the notorious tse tse flies are attracted to dark colors, especially Dark Blue and Black. Try to wear neutral colors like Khaki. They will come after you, and unfortunately no such repellant exists for tse tse flies.
Avoid military colored clothing, for obvious reasons

Pack light and layer. It was both hot and cold.

It is very dusty, especially during dry season. Many people find a buff, scarf, or bandanna helpful to cover your mouth. Sunglasses for eyes at all times.

Decided against bringing a laptop. This was a great choice. Memory cards are super cheap, so ditch as much electronics as possible and immerse yourself in nature and the present moment.

Hiking boots were not necessary, but provided some protection. In retrospect, running shoes would be fine. During the safari you are always in the car. Theoretically, you could wear sandals if you'd like. Just be careful when walking outside, there are snakes like the black mamba out there!

Bring sandals for showering in the tents and walking around. Towels are provided. Hair dryers may or may not be available.
Bring soap to wash clothes in sink (if needed). Clothes will dry quickly when left out. One camp actually provided laundry, which was nice.

The one time I checked in my bag during this trip, the airline immediately lost it. Getting it back was really challenging since we were on the move every day. The airline sent a private courier from the Kruger airport (MPQ) to the Lower Sabie camp. Somewhere along the way, someone stole all my biltong and chocolates from my bag! South African Airlines never reimbursed me. Boohoo.

Keep a ziplock baggie with toilet paper on your person at all times.

The Mr. used a Osprey Farpoint 70 backpack. Quick review, it was too big, as I was often stopped by flight attendants who asked me to check in the bag. Also, the small backpack which is attached to the main unit is only useful as a separate bag. Don't expect to keep it attached to the main bag, as the weight distribution makes it unwearable.
Photography
We're newbies in the photography game, but Africa is a place where you want to capture everything and anything on film. An iPhone is most definitely NOT going to cut it. We borrowed my mom's camera, a Canon Rebel T5i. It's a few years old, but still pretty decent. Even though it doesn't have a full frame sensor, that helped with additional magnification.
We rented some lenses from lensprotogo.com. There were a few local options, but this was the cheapest for a 3 week rental.
Canon T5i body (my mom's)
Canon 24-70 F/2.8L II (close shots)
Canon EF 70-200mm f/2.8L IS II (used this most of the time)
Canon EF 1.4X II Extender (always kept this on the 70-200mm)
Canon Battery charger
4 Batteries (didn't need to buy so many, 1 battery lasted most of the day!)
256gb SD Card PNY Elite Performance U3 x 2
256gb USB Memory Stick just in case
In retrospect, the 70-200mm zoom lens with 1.4x extender was ok, but I wish we had a more powerful zoom. 28-300mm F/3.5-5.6 L IS lens next time? Weight was also a factor, so all in all, we were happy. We also wish we brought two cameras.
I also wish we took a photography class or spent some time shooting before we went to Africa. I read some blogs and got some helpful tips from friends, but doing it on the fly, especially with the unpredictable nature of animals, was pretty challenging. I used Aperture Priority mode the most, setting the lens to the fastest shutter speed I could get to capture fast motion. Often times I switched back to Automatic mode as a backup.
I also shot in the RAW format during the trip. Luckily, disk size wasn't a problem with our multiple 256gb SD Cards. Yay for technology. The problem we have now is sorting through all 15,000 pictures and having to manually process them in Lightroom. RAW photos look pretty flat and colorless without being processed. I noticed that in low light, my shots were a bit blurred out and had color aberrations. Most likely, user error.
We also brought our GoPro. This wasn't as helpful on our trip, as all the animals and everything we wanted to capture were far away. Low light operation is pretty poor as well. Next time we'll invest in a good handheld camcorder. On the brightside, it was helpful during our shark cage diving excursion in Hermanus.
Go Pro Hero 4 Silver

6 batteries

Battery charger

64gb SD Card Sandisk Extreme U3

64gb SD Card Lexar 633x U3 x2

32gb SD Card Sandisk Extreme Plus U1

Gorillapod

Stock Go Pro

Case

Waterproof backing (shark cage diving)

Selfie stick
Memory Storage
Glad we didn't bring a laptop. Just buy large memory cards.
256gb SD Card will store ~4,000 RAW files (18MP)
How do you charge your electronic gear on a safari?
During our safari in Tanzania, the Land Cruiser was equipped with an electrical outlet. I used this to charge all of our camera and phone batteries throughout the day. Be prepared to share it with the driver and other passengers. In Tanzania the power sockets are of type D and G. The standard voltage is 230 V and the standard frequency is 50 Hz.
On our South Africa leg, we had a rental car with a USB outlet, and plenty of time at our hotels to charge up. The power sockets are of type D, M and N. The standard voltage is 230 V and the standard frequency is 50 Hz.
Photography Notes:
Everything is far away in the Serengeti. A 70-200mm with a 1.4x extender isn't powerful enough for most shots. It is a decent lens set up, but I'd bring a higher power lens next time.
Shooting RAW is also interesting as the pictures turn out flat in color. I am not looking forward to post processing our 15,000 pictures, but thankful to have shot in RAW. Our pictures turned out pretty ok.
For action shots I used ISO 800 and f4.0, a fast shutter speed. It came out ok, but some shots turned out overexposed.
Lastly, ensure your safari car has bean bags to rest your camera. Don't forget to pull them back into the truck before you speed off!
Probably don't need to bring binoculars. Email your tour operator and they'll provide them for you.
What's in our travel wallets?
Wallet: Swiss Wallet

Chase Sapphire Preferred

Currently one of the best credit cards for travel (I'm now using the Chase Sapphire Reserve, but the deal expired sorry)

50k points for spending $4k in the first 3 months

2 points on travel related expenses

$95 annual fee after the first year

Schwab Debit ATM Card

No ATM fees at any ATM worldwide

We don't like to carry much cash, and with this card we don't have to worry about exchanging US Dollars at shady money changers

Note: this card doesn't work at all ATMs, so try different banks

$350 USD Emergency cash

Make photocopies of your cards and passport and store them securely online. Dropbox?

Money Belt
Souvenirs
What to buy on your trip to Africa? Here's some of what we thought was kinda neato burrito. Look for authentic quality pieces. There are lot of cruddy products that are produced in China and sold in African tourist shops.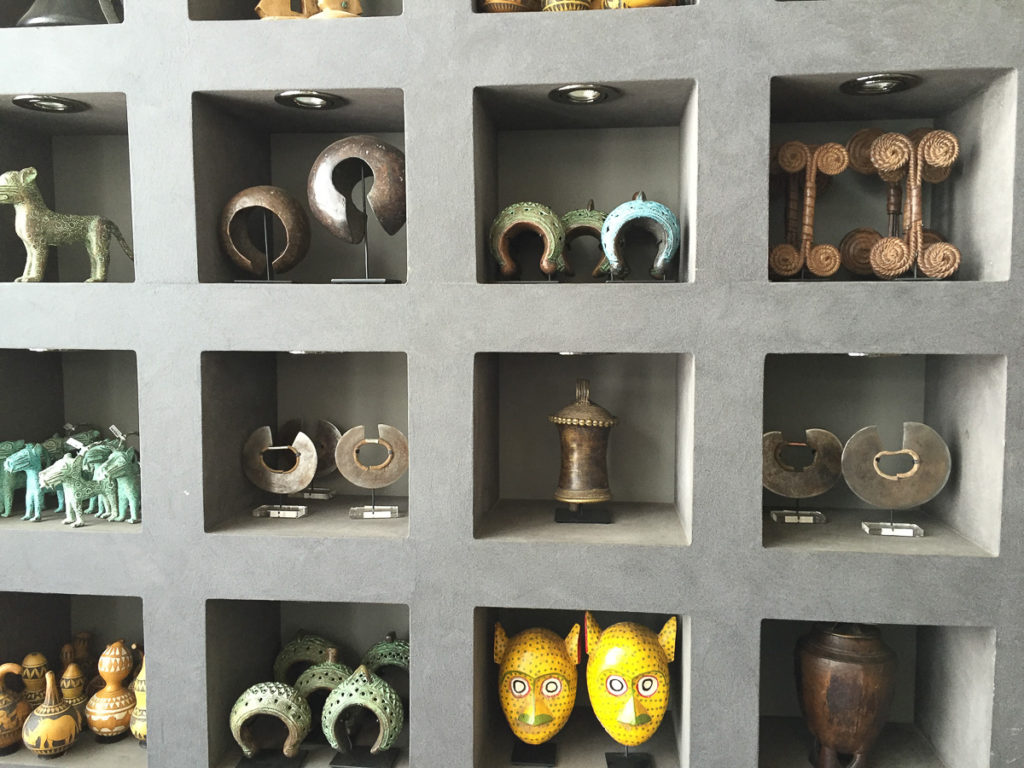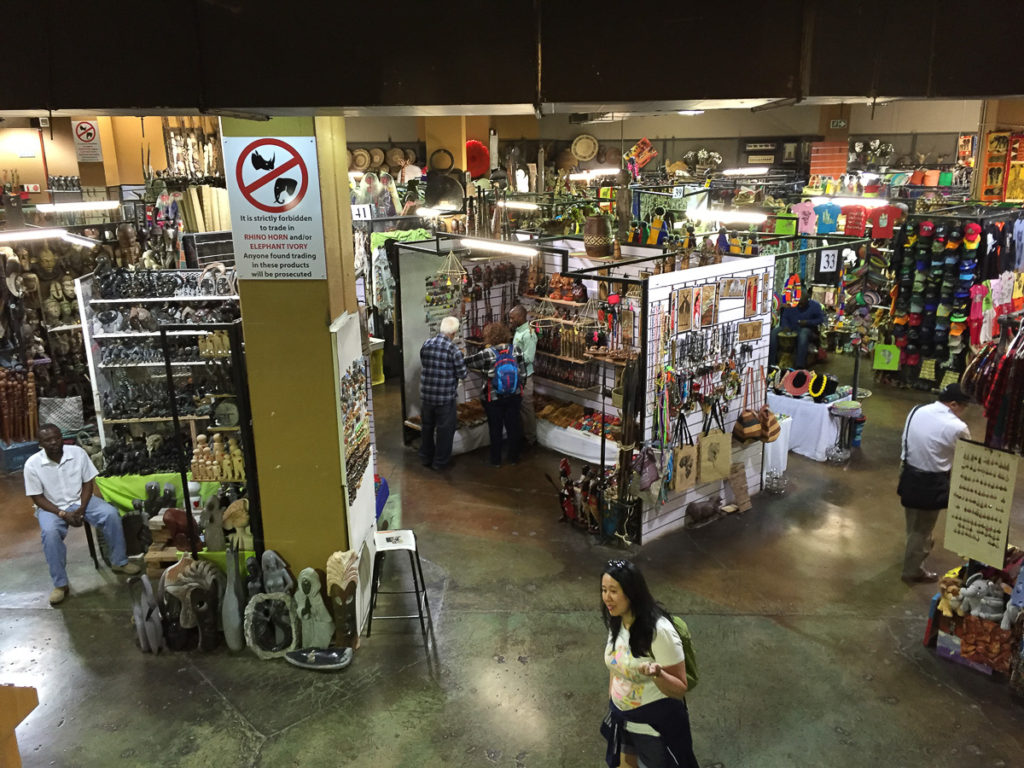 Check out out our other articles on Africa:
12 Days in Tanzania, an African Safari
When is the best time to see the Wildebeest migration and river crossings?
Sign up for our newsletter
We promise to only send meaningful content and will never give your email to anyone else.

Bonus material:
What do we eat while on an African Safari?
Here's a few snapshots of what we ate during our 12 day Safari trip. No, chilled monkey brains was not on the menu.
How do I use the bathroom on an African Safari?
For the most part, the national parks we visited were well-equipped with clean, modern, Western style bathrooms! In the Serengeti, there are several designated lunch areas with bathroom facilities, but those are far and few between. Alert your driver to find a safe spot for you to jump out and do your business behind the truck. Watch out for black mamba's!