Iceland's Ring Road in 10 days
Follow our journey as we take you day by day around Iceland's Route 1, aka the "Ring Road." We chose to take our counter-clockwise trip in a camper van. We hope you find our trip report helpful, no matter which direction or mode of transportation you take. (Start here for our beginner's guide)
In a Nutshell:
Late May 2016
Duration: 11 nights, 10 days
What: Counter-clockwise road trip of the country in a Camper Van
Foods to Try: Seafood, Fermented shark, puffin, whale, rye bread, dried fish, lamb, Skyr yogurt
Unique Experiences: Hiking, camping, geothermal pools
What to Buy: Icelandic sweaters, fish snacks, fur rugs (if you're into that), everything is quite expensive here
When you see the *, this signifies a must visit!
Day 1 – Reykjavík International Airport (KEF) to Reykjavík to Thingvellir
When you see the *, this signifies must visit!
Saegriffin

(The Sea Baron) for meat-y grilled fish and lobster chowder *

Valdis

for ice cream

Bank ATM to pick up emergency cash $25000 ISK ($200USD)
Harpa Concert Hall *
Sun Voyager Sculpture for obligatory selfies *
Downtown Reykjavík *
Bonus Supermarket (downtown Reykjavík). There are also Bonus and Kronan markets near the Go Campers headquarters, for future reference.
Hot dog from this famous place.
We touched down to a gloomy and overcast Land of Fire & Ice, and jumped on the Flybus to make the 50km journey to the country's capital, Reykjavík where we proceeded to explore the city by foot. The first thing we did was grab a bite to eat! Enter the Saegriffin, a counter service cafe where you can select which fresh seafood kebab to try. The fish was so fresh and meat-y…like a thick juicy steak, and seriously one of the best fish we have tasted! We then roamed around the pier area to the Harpa Concert Hall with the modern architecture (take your Instagram-worthy photos here), then to the Sun Voyager Sculpture. We did squeeze in a few more bites at Valdis ice cream and famous Icelandic hot dogs at the Bæjarins Beztu Pylsur stand. What's the big deal about Icelandic hot dogs?
Our Camper Van
At 5pm, the Go Campers kid picked us up and drove us to the Go Campers headquarters. Our camper van: a Dacia Dokker. After a few more stops at the market to buy snacks and water (whoops, easy to confuse the sparkling and still water bottles), we were finally on our way to the Golden Circle route, starting with Thingvellir (aka Þingvellir), about 1 hour away.
Thingvellir
Thingvellir is pretty cool national park with tectonic plates jutting out of the earth, a lake, and a few small waterfalls. It looks like where the earth was formed. There were lots of flies outside (attracted to sulfur), but they weren't too annoying. At 9pm, the sun was still out, so we were able to explore the area on foot for a while. We didn't get a chance to snorkel in the Silfra, but maybe next time. We found a remote dirt parking lot to spend the night. It was difficult sleeping in the freezing cold the first night, since my sleeping bag was broken! I had to put on my ski pants and layered on pretty much all the rest of my clothes. On a side note, the wife had to pee outside at 2AM (the worst!).
Day 2 – Thingvellir to Seljalandsfoss
Via the Golden Circle Route, Overcast and Drizzly
Thingvellir *
Iceland Camping Excursions, Reykjavík to rent a working sleeping bag
Hallgrimskirkja church Reykjavík *
Laugarvatn Fontana *
Geysir *
Gulfoss Falls *
Seljandafoss *
I'm going back to Reykjavík
We were abruptly woken by a camp warden the next morning. She was pleasant enough, but said we had to pay the nearby camp site fee 2500 ISK. All good, we paid, used the facilities, and decided to rent a proper sleeping bag from another company called ICE (Iceland Camping Excursions) in Reykjavík.
After taking care of the sleeping bag snafu, we checked out the Hallgrímskirkja Lutheran church in downtown Reykjavík. Interesting modern design based on the Svartifoss waterfall. Church architecture in Iceland is very unique/ strange/ modern/ spaceship/ Mormon temple inspired.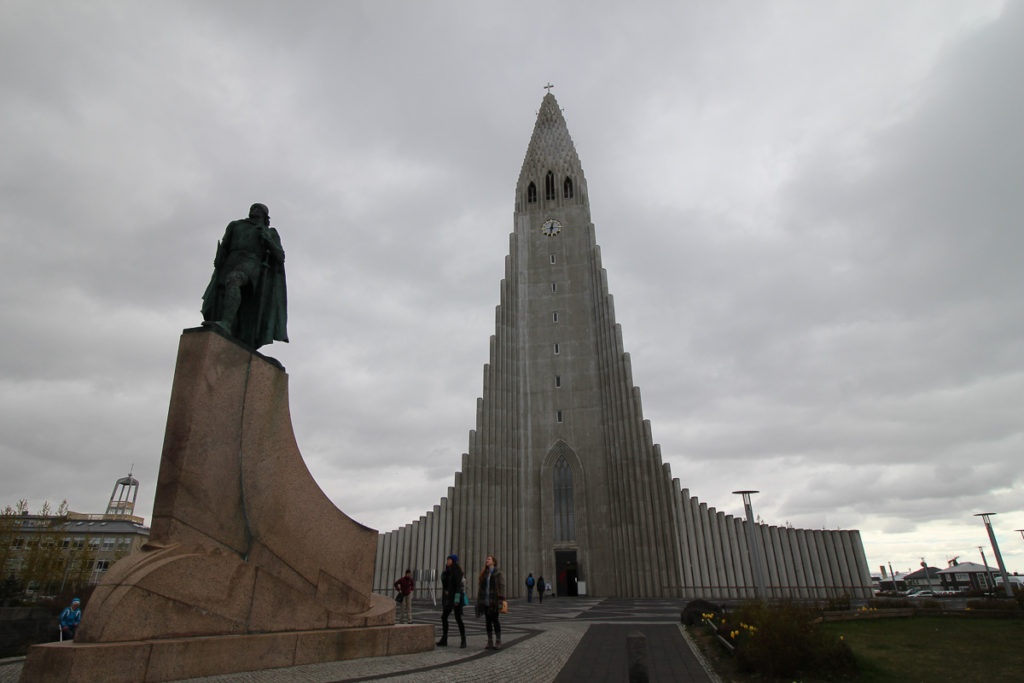 Laugarvatn Fontana
We drove back to the Golden Circle area and stopped at Laugarvatn Fontana to check out the hot springs. The local rye bread was amazing! It's baked by digging a hole in the ground near the lake and uses the earth's geothermal energy as the heat source. Our samples slices were fresh and piping hot out of the ground, served with Icelandic butter! I'm a self-proclaimed bread snob who harbors my own sourdough yeast starter in the fridge, but there are days I crave that warm rye bread! Bought a quarter loaf for the road (they only sell day old rye bread, not fresh ones). We didn't use the hot springs as we were waiting for Lake Myvatn & the Blue Lagoon. The red headed girl who worked there was a nice soul. Sulfur = lots of flies
Geysir, Gulfoss, and Fludir
Not far away was Geysir, where we watched gobs of hot water spout out of the earth. Did you know the English word "geyser" is derived from the Icelandic word "geysir," which means gusher. While Great Geysir is inactive, the smaller Strokkur ("The Churn") erupts every 10 minutes or so and can reach 30 meters (100 ft).
After watching several eruptions, we drove to the Gulfoss ("Golden Falls"), a double waterfall (must see!). Amazing. TripAdvisor states this is the most visited attraction in the country, and we can see why. Once you walk down to the waterfall, it's another beautiful view. Our rain jackets came into good use as we got wet from the powerful spray. We'd love to come back here in the winter or summer to witness a different landscape. I saw a Iceland book at a souvenir store that had pictures of every major waterfall in all four seasons, I kinda regret not buying that but it makes me want to go back to Iceland just to see the different scenery!
On a side note, it pays to bend the rules in Iceland. If you stay within the roped boundaries, you won't get the full experience and will miss out on the best views. At most sites, there's nobody enforcing the rules. Initially we didn't feel comfortable jumping over the ropes, but nobody else seemed to care! Of course, we were always respectful to the local people, and especially to mother nature. Never disturb the flora or fauna, or be a jerk tourist.
Stopped in Flúðir for a "secret" lagoon hot spring near a greenhouse. Kinda neat, we ended up snapping pics of the Icelandic horses in the parking lot. Ha!
Seljandafoss
Seljandafoss is one of the iconic Iceland waterfalls. You can even walk behind it! See Justin Bieber video. We cooked dinner, then hiked around the area at midnight. It was magical at that hour, especially since we had it all to ourselves! If you walk further to the left there is another hidden waterfall area as well. We very much enjoyed roaming around and exploring such natural beauties with nobody else around, and having nearly 24 hours to do so!
Another magical experience that only happens in Iceland is going to sleep and waking up to the view of this beautiful waterfall. Another plug to go the camping route here.
Day 3 – Seljandafoss to Vík
Weather: Sunny!
Seljandafoss *
Eyjafljallajokull view point
Rutshellir
Skogafoss *
Seljavallaug *
Solheimassandur Plane Wreck *
Country Hotel Katla, Vík
The almost 24 hours of daylight in Iceland is really trippy and disorienting. We woke up at noon (!) and enjoyed the beauty of Seljandafoss again and hiked behind the falls. We got very soggy, even wearing full rain gear. Ate a champion's breakfast of granola, banana, and Skyer yogurt (the best yogurt ever)!
Hit the road and quick stop at the Eyjafjallajokull volcano site, which erupted in April 2010 and stopped all European flights. Another quick stop at Rutshellir, a man made cave that looks like a hobbit house.
Skógafoss
Skógafoss is Iceland's largest and highest waterfall. We took lot of pics at the base of the falls and climbed to the top via the stairway. There is a hike on top, Fimmvorouhals mountain pass. It is a 26km trail to the volcano and follows the river and ridge. One could spend days on the trail, but most people hike for 1-2 hrs and will see plenty of waterfalls, canyons, and cool rocks. Nature can just keep sucking you in with more and more beauty.
It rained sporadically during our lovely hike, and would love to come back here and hike longer. Hikes here pass by quickly as there is so much to look at and look forward to.
Seljavallaug
We drove over to Seljavallaug, a geothermal outdoor swimming pool hidden in between mountains that was built to teach Icelanders how to swim. You have to hike in 20 minutes. The pool is green, brown, moldy, and slimy on the ground. But it is an experience you have to try and check off your list. Warning, you may get a rash or bacterial infection (just kidding?). Beware, it can be very windy and cold, and you'll freeze your buns off when getting out of the pool! There are 3 changing rooms (with doors). It wasn't hot in the pool, just lukewarm. All in all, a unique experience.
Solheimasandur Plane Wreck
We hit the Ring Road and saw the unmarked parking lot of the Solheimasandur Plane wreck, so we pulled over. Cars are no longer allowed, even 4x4s. It's a 4-5km hike in, flat dessert, 1 hour each way at least. Bring a hat, water, face mask. The plane is being reconstructed, so that is kinda weird. New wing, and fake parts thrown in for decoration. We honestly spent the majority of our time trying to figure out how to climb to the roof with an Indian tourist. Jon's height turned out to be an advantage in this case. Lots of people, Disappointed (cue: Kevin Sorbo Hercules outtake) Photos come out really amazing though.
Vík
We drove to the Vík camping site later that evening. Being non-peak season no showers or bathrooms were open! The kitchen and dining room was open for people, so basically you had to just poop in a corner somewhere. No gracias! We needed showers badly (since we took a dip in the moldy Seljavallaug), so we quickly decided to book a hotel. The IcelandAir hotel was too expensive, so we went on booking.com and booked the Country Hotel Katla hotel for about $160 USD a night. We were finally able to sleep the whole night without stress or freezing to death. It also felt so good to shower off the green slime. Tried to go to the hot tub, but I made it a few feet outside the door and the wind chill froze me to the core, so I ran back to the room.
Note: Public swimming pool hours are very limited. Everything closes early in Iceland.
Day 4 – Vík to Skaftafell National Park
Weather: Overcast and drizzly
Country Hotel Katla, Vík
Reynisfara beach (Black Basalt Rocks) *
Dyrholaey to see the puffins (we missed this, boohoo)*
Fjadrargljufar Canyon – one of the highlights of our trip*
Skaftafell National Park *
Full buffet breakfasts are the best! The hotel had homemade bread, rhubarb jam, and a lamb plate. Went on our merry way to Reynisfara beach, a black sand beach. So awesome to see the Basalt rocks and Dyrholaey from a distance. Lots of big caves with bizarre rock formations. The rocks are so crazy and interesting here! We should have went to Dyrholaey to see the Puffins, bummer!
Fjadrargljufur
Back on the road towards Fjadrargljufur. This is a really awesome canyon, a MUST VISIT with a lot of out croppings you can walk on. This place is seriously trippy but beautiful and unique. Nothing like I've ever seen before. It was about a 1.5 hour hike. Very few people here. It started raining here, but we were prepared.
Then we drove to Skaftafell National Park. The drive was windy in areas and hailed at times. We did get to see many glaciers along the way and stopped to take pictures. We decided to camp at Skaftafell (next to the clean visitor's center) and made our gourmet ravioli dinner. The campsite has a scenic view of the glacier, and after dinner I took a walk around the area to take advantage of the pleasant weather. As the sun was setting, it gave the snow caps a beautiful pink hue. One of our favorite moments. To end our relaxing night, we caught up on journaling and hit the hay early.
Day 5 – Skaftafell National Park to Hofn
Skaftafell National Park *
Jokulsarlon Glacier Lagoon *
Netto Supermarket, Hofn
Hofn Sundlaug
Pakkaus Restaurant, Hofn – Order the Langostines and Vatnajokull beer! *
Almannaskard Lookout – Quiet place to snooze
Skaftafell National Park
Woke up early and ate Skyr yogurt and a salami sandwich. We embarked on the 45-min hike up to Svartifoss waterfall, the inspiration for the Hallgrímskirkja church in Reykjavík. While not as large as a Gulfoss, this waterfall is just as grand with its upside down lookin' rock formations. We hiked another 1.5 hours on the S6 route to the see the view of the glaciers from the lookout cliff, Sjonarnipa. Another trip highlight was stopping for a makeshift picnic at Sjonarnipa and enjoying our packed lunch with an unobstructed view of the glacier.
Jokulsarlon Glaciers
We hit the road and reached the Jokulsarlon Glaciers Lagoon.
We skipped the boat tour (reminiscent of those duck tours) since there weren't too many glaciers at this time of year. Instead we walked around the lagoon and checked out all the ice. And by check out, we mean picking up pieces of ice that floated ashore and throwing rocks to see who could throw farther. We should have stopped by the bridge/ mouth of the river, where the glaciers end up and you can take nice pix. Doh.
Hofn
We drove to Hofn, first stopping at the Netto supermarket to pick up groceries, and then went for a swim and shower at Sundlaug. Good facility (which closes at 7pm, like the Netto, Lame). The pool was super sanitary, and nobody was enforcing the shower naked rule. They had waterslides and an ice bath! The waterslides were so fun!
After a warm shower, we went to Pakkaus Restaurant for dinner. Had a beer and cider downstairs beforehand as we waited to be seated. Great langostines (Icelandic Lobsters), tasty like shrimp. The wife had blue lingcod in a succulent white sauce. Good ambiance and we even had a window seat overlooking the boat that caught our meal that very morning! The local beer is called Vatnajokull. After dinner, we found a nice off trail hidden spot for the night, called the Almannaskard lookout. Another highlight and reason #98324 to go with the camper van.
Day 6 – Hofn to Myvatn
Almannaskard

East Fjords

Djupivogur
Reyuarfjordour
Egilsstadir
Borgarfjordur – We didn't go here, but supposed to have a lot of Puffins

Dettifoss & Selfoss *

Krafla Power Plant *
Viti Crater *
Namajfall *
Hverarond
Vogafjos "Cowshed" Restaurant in Reykjahlid. Recommended *
Hildi Campsite (Myvatn)
We whipped together breakfast (rye bread w/ cheese and salmon, Skyr yogurt, eggs) on the mountain top overlooking the ocean and glaciers. We spent the morning driving through the Eastern Fjords. We would have liked to visit the Viking Cafe, but they were closed for the season. Along the drive, there aren't many reasons to stop, and the drive is reminiscent of the Pacific Coast Highway. Ok, we're probably spoiled from living in the Bay Area. Here we decided to skip the detour to the puffin colony at Borgarfjordur.
Stopped by Djupivogur, but not much there except stone statues of eggs? Went through a few more fjords (not spectacular compared to Norway). Passed through Stodvarfjordur and Reyuarfjordour. The wife fell fast asleep. Took the shortcut Rte 92 to Egilsstadir, and stopped at N1 for gas and snacks.
Dettifoss & Selfoss
Ate a quick lunch in the N1 parking lot and drove through a frozen tundra. Boy did the weather change drastically from the Eastern Fjords! Winter storm like conditions, kinda scary. Wheew, we made it to Dettifoss falls! Was snowy so we wore our ski pants. It started snowing while we were hiking to the falls and was very cold. If you hike a little further, you can see the smaller waterfall, Selfoss.
Note: The road to the Asybygi Canyon from Detifoss was impassable by our tiny camper van. Too much snow so you probably need a snowmobile or monster truck 4×4.
Krafla, Viti Crater, Namajfall
We raced back to the car and headed to the Krafla power plant for some pics and an out of world experience. Smelly sulfur gas everywhere out of the ground. We hiked to the the Viti crater at the top of the hill, which had low visibility given the snow. We then drove to Namajfall, which is probably the closest resemblance to a space movie we've had with the geothermal steam coming from the ground. We half expected aliens to pop out of the mounds, but alas only smelly sulfur steam and Jon in a spacesuit jacket.
Martian from the Krafla Power Plant. I come in peace, to serve man.
Lake Myvatn
We reached Lake Myvatn by early evening. Our stomaches were growling so we stopped for dinner at Vogafjos "Cowshed" in Reykjahlid town. Talk about true farm to table! Cows reside inside the restaurant, and we had views of the sheep pens, while gnawing on a juicy lamb shank. Other delicious stuff there, Ice cream, smoked lamb. We did feel guilty for taking videos and pictures of all the cute lambs outside after devouring one of their friends earlier for dinner 🙁 We frustrated ourselves driving around Lake Myvatn looking for a place to sleep since our original campsite, Camping Myvatn, had not reopened for the summer. We settled at Hildi campsite for the night.
Day 7 – Myvatn to Akuryeki
Hildi Campsite (Myvatn)
Grotojagte Cave (Game of Thrones cave) *
Myvatn Nature Baths (Jarobadin)*
Hverfjall Crater * (we missed this one!)
Husavik – decided to skip this town, famous for whale and bird watching
Godafoss *
Brygn Ice cream, Akuryeki
Hamrar Campsite, Akuryeki
Grotojagte
The next morning we woke up and drove to the "Grotojagte," featured in the Game of Thrones series (actually a LOT of filming for that show takes place in Iceland). Bring your headlamp if you want to explore. The cave seemed to go on into the darkness indefinitely, and we ultimately turned back as the thought of being crushed alive as we saw rocks falling got the best of us. Back at the car we fixed breakfast (salmon, cheese, rye, granola w/ soy milk).
Myvatn Nature Baths Jarobodin
It was time for our geothermal hot springs experience at the Myvatn nature baths (Jarobodin). $40USD a person. This felt more scenic than the Blue Lagoon and I know some prefer the less-crowded Jarobodin. It had this infinity pool vibe with a view of the mountains and Lake Myvatn. We enjoyed a relaxing 2 hours here in the 1 warm pool, 2 very hot pools, and super hot steam room. Note: Do people not care about the sun in Iceland? No hats or sunblock to be found. Locker rooms are smaller and less nice than the Hofn Sundlaug pool, oddly enough.
After our dip, we ate lunch (cooked spaghetti with fish cakes) in the parking lot, and drove to Godafoss. After seeing so many waterfalls, Godafoss was pretty small waterfall in comparison. We missed another giant crater there, Hverfjall. Darn.
Akuryeki
We made our way to Iceland's 2nd largest city, Akuryeki. Our first stop was for soft serve vanilla and strawberry ice cream at Brygn (they use real milk). Restaurants in this town looked…commercial?!? We strolled around Akuryeki's botanical gardens until closing. The city campsite was closed but looked like a dumping ground for unwanted clothes & furniture. Luckily, we found the sister campsite Hamrar, which was really cool and only 10 minutes away. We cooked our dinner (Indian curry rice) on a real stove (!) in the communal kitchen and hung out in the common area until 1am. The cost is 2700isk per night.
Day 8 – Akuryeki to Stykkish
Hamrar Campsite (Akuryeki)
Brygn Ice Cream (Akuryeki)
Kolugljufur – Best Picture Spot in Iceland *
Grabok Crater
Bourgarnes
Blonduos
Parking lot outside of Stykkisholmur
We cooked the rest of our fish cakes in the oven, ate lunch, and on our way out of town stopped for another Brygn ice cream. Made a stop by the Kolugljufur, a quiet canyon with a waterfall. We took lots of pics and saw lots of sheep and horses. Next up was Grabok Crater, where we walked up a seemingly newly-built stairway and path around the crater at the top. We kept driving towards Bourgarnes. We stopped in the town of Blonduos for gas and saw a school with a zip line type of swing. A local girl skipped by to show us how to use it. It was soon night and with rain and wind coming down hard, we parked at a random info parking lot near Stykkisholmur for the night. Several other vans did the same. The entire night was filled with the craziest howling winds, and we thought our van would flip over at some point during the night. So we prayed and went to bed there, the van shook all night long.
Day 9 – Stykkish to Barnafoss
Neshraud Bakery (Stykkisholmur)
Bjarnarhofn Shark Museum *
Stykkisholmur Harbor *
Kirkjufell *
Snaefellsjokul National Park *
Hellnar to Arnistapi Hike *
Fjoruhusid Fish Stew Restaurant, Hellnar. The best fish stew ever *
Deildartung Hot Spring (Hottest, just to look)
Hraunfossar / Barnafoss
What a rough night. We must've woken up several times from the rocking of the van and loud winds. We drove into town to gas up and call the mechanic, since our gas gauge did not work. Neshraud Bakery in Stykkisholmur was good local find: good bread, chocolate roll, and ham and cheese bun. Once the guy put a plastic tube into the gas tank, the meter worked again. Sheesh. I'm glad Go Campers had mechanics on standby all along the Ring Road to help with mechanical problems.
Bjarnarhofn
We went on our merry way to the shark museum, Bjarnarhofn. Just like bizarre foods show! The owner was a really nice guy, but the dried shark meat was….. Yech! Putrid shark flavor, tasted like ammonia, or someone peed in your mouth. Well, technically it's shark pee since the Greenland shark's urine stays in their body so that's why humans have to ferment shark for 6 months to avoid the toxicity. Just our luck that there was a large, freshly-caught shark that was towed in so we poked around and took some pics. They can't fish for shark and receive it only when one gets caught in a trawling net. Our tour included the famous shark drying shack. We drove back to Stykkisholmur and walked around harbor and climbed to top to see view and lighthouse. Visited the Sugandisey studio Leir 7 ceramics store.
Kirkjufell
We stopped at Kirkjufell, the most photographed spot in Iceland, to take our photos of the nice mountain and waterfall. Grundarffjordur where Kirkjufell is. Large cone shaped rock w/ waterfall where they shot Secret Life of Walter Mitty movie.
Snaefellsjokul National Park
We drove on to Snaefellsjokul National Park and Hellnar. Great short hike starting at Hellnar and the through lava fields and moss to Arnistapi. Finished the hike with a fish soup with warm bread at Fjoruhusid, Hellnar. Cauliflower, brocolli, carrot, leek, salmon, cod, pepper, cream. So good on a dreary day. Then drove to Deildartung, the hottest spring in Iceland (no swimming, obviously). You can buy a bag of greenhouse-grown tomatoes here from the self pay cart. Stopped at the N1 in Bourgarnes again, then went to Hraunfossar and Barnafoss.
Hraunfossar
Hraunfossar is a unique waterfall! Barnafoss is where 2 kids drowned. Nice here and had it all to ourselves.
Day 10 – Barnafoss to Reykjavik. Final destination, the Blue Lagoon!
Hraunfossar/ Barnafoss
Borgarnes
BSI Bus Station Restaurant for "Svid", Reykjavik *
Icelandic Barinn Restaurant, Reykjavik *
Molyer MMA
Blue Lagoon *
Go Campers HQ
Reykjavik Airport via flybus (Pick up at Hotel Hafnarfordnr)
Our last full day! We stopped by Stedl Brewery for some famous strawberry beer, but they were not really open for tours. Gased up at Borgarnes and stocked up on more hardafiskur (dried fish). On way to Reykjavik we had to pay $10 toll for a 6 km underwater tunnel. Back in good ol' Reykjavik we returned our unused items at Bonus, returned the sleeping bags, then hit up the BSI bus station for the cafe restaurant which served… svid! Boiled sheep's head with potatoes and yam. It was gelantinous and kind of interesting $26 USD.
Islenki Barinn
But our food adventure wasn't over yet! We tried puffin in a jar (appetizer, $16, tastes like beef but weird smell), grilled whale (main dish, 3600ISK, earthy tasting and goes well with bacon glaze).
We walked through town to window shop and stopped by Molyer MMA, but didn't see Gunnar Nelson or Connor McGregor. Traffic was bad in Reykjavik, so it took over 1 hour to get to the Blue Lagoon from downtown.
Blue Lagoon
When we finally got to the Blue Lagoon, there were mobs of tour groups. We were told tickets were sold out until 8pm! We were supposed to leave for the airport by then! An employee felt bad for us so he offered us a Luxury package deal at a discounted price given our short stay. Thankful to be able to get in to the Blue Lagoon, even if only for a short time. 1 drink, 3 mud masks, robes, sandals, towels, amenity kit were included. We also got a platter of chocolates, fruits, coffee, a private changing room with fireplace, and private entrance to the lagoon! It was actually pretty relaxing and romantic. I accidentally put the silica mask mud in my wife's eye so she got all mad at me. Hahahaha. The Lagoon was not as warm as Myvatn. Also frolicked in the waterfall area and steam bath sauna.
Goodbye!
Our time was ending and we drove to our pickup point at Hotel Hafnarfordnr, a hotel close to the Go Campers headquarters. I dropped off the wife and our bags at the hotel, then dropped off the camper van and walked back to the hotel. You can just drop off the key at the KuKu campers mail slot which is right around the corner from Go Campers. The Fly bus was 15 minutes late for pick up (10:15pm), but we made it to the airport early anyway. It took about 40 minutes to get there. Lots and lots of people were at the airport, all were checking in bags. So be aware of that. Good thing we only had carry ons! Relaxed and bought some final souvinirs with our money.
Good bye Iceland, you were so much fun!
Sign up for our newsletter
We promise to only send meaningful content and will never give your email to anyone else.