Hello from rainy Portland…
home of giant artisan meat stuffed cheesy biscuits, sour fruity craft coffee, super bitter over hopped beer, no sales or healthy sf tax.
Just wanted to post our short weekend itinerary and travel notes to this northwest city.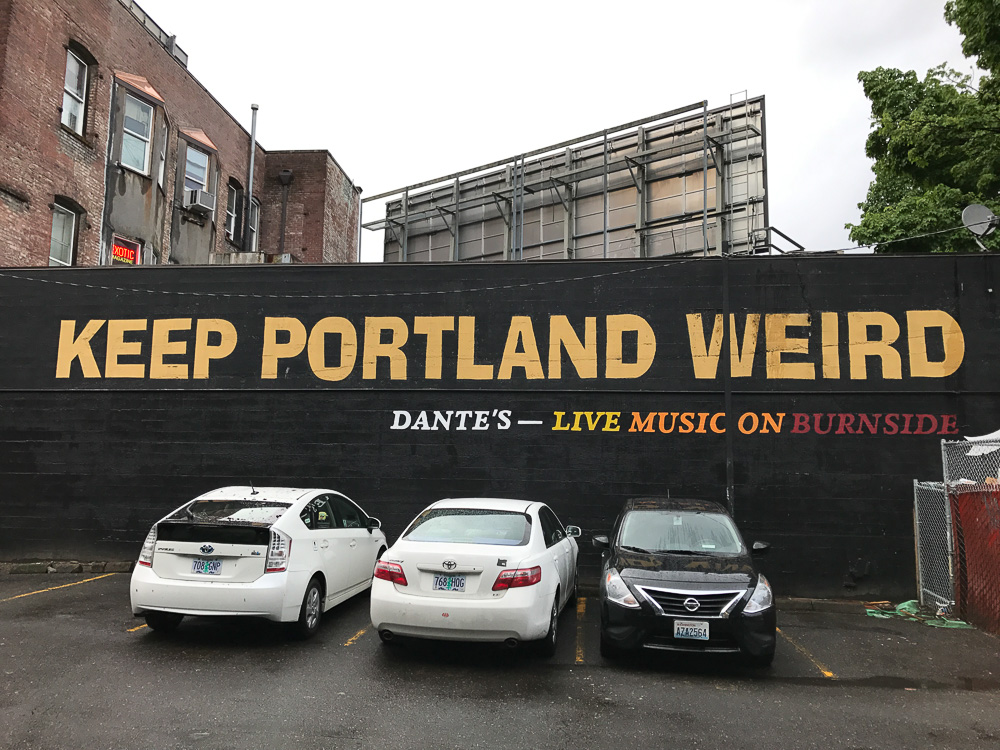 Day 1
Our Virgin America flight was 3 hours delayed so we arrived around 1am. PDX is very easy to navigate, and we picked up our rental car at Avis pretty much 10 minutes after arrival. On a side note, check Costco rental car prices. We rented a full size Ford Fusion for 4 days for $125 total. Contrary to advice on Tripadvisor, you should rent a car while visiting Portland (just make sure you have free parking).
We stayed at the Best Western Inn at the Meadows. This hotel is not too bad, 15 minutes away from the airport and downtown Portland. It's also a lot cheaper than staying in Portland downtown, with free parking. Safe, clean, and a free generic hotel breakfast. $89/ night. When planning your trip, note that downtown Portland has a significant homelessness issue.
Day 2
Woke up late, and drove to Tasty N Sons for breakfast. Ordered the blueberry biscuits, Chocolate donut, Ragu, Roast Beef sandwich. Pretty good, and it's a pleasant surprise not to see sales tax, or a healthy sf tax on top of the bill! Drove over to Extracto for an ice coffee. It was good coffee, but the ambiance leaves something to be desired. Coffee was expensive, the same price as in San Francisco.
For dinner, we hit up Pok Pok on SE Division street. It's nice that most restaurants will take your name and call you when your table is ready. We whet our appetite strolling around the neighborhood. I was feening for the Papaya salad, but it ended up being super spicy! ugh. The wings were salty but good, and we also had the pork belly curry, with sticky rice.
After that, we drove around downtown, and checked out Powell's City of Books. What a super great store! We couldn't decide whether to have Salt and Straw, or Voodoo donuts. We drove by Salt and Straw and the line was massive, even at 1030pm. So we drove over to Voodoo which had no line. Picked up a Maple bacon bar, blueberry, oreo, and Portland custard donuts. The area is shady at night so we brought it back to the hotel and ate them as a late night snack.
Day 3
Woke up, ate the free hotel breakfast, and went to Walmart around the corner for water. Then we drove to the Alberta district for brunch at Pine State Biscuits. We got the Reggie sandwich, with biscuit, fried chicken, bacon, cheese, and country gravy. And the cornmeal pancakes. Yummy. Afterwards we walked on Alberta street for a while, and since there was no line at Salt and Straw, I got a waffle cone with Coava coffee and Coconu Craque ice cream. Oink.
We drove over to downtown Portland and tried to go to the Saturday market, but it started pouring and hailing so we sat in the car and waited it out.
Luckily it was 4pm, so we drove over to the Multnomah Whiskey Library for a few cocktails and enjoyed the dark library setting inside the bar. This is a must visit in Portland! Anyway, the wife went shopping downtown and I got a Nitro stout at Deschutes Brewery.
We tried to go for a Blue Star donut, but it was closed. So we walked over to look at the Keep Portland Weird sign (it's right across the street from Voodoo donuts btw).
Then magically it was dinner time. Drove over to SE Division street, and had a double burger at Lardo, and walked across the street for the Palaak Paneer fries, at Potato Champion. Both delicious, and a good way to finish off another day of gluttony in Portland.
Day 4
Started the day with an ice coffee from Prince coffee. Was good, in a small town part of Portland. They also sell stroopwaffles there, but they weren't fresh. We drove over to Multnomah falls and hiked the 1.5 miles on the concrete pathway to the top. Good to get exercise finally. Took a lot of pix, lots of tourists there. If we could go back, we'd try to do Mount Defiance. Then we went over to Hood River for a late lunch. Double Mountain brewery was great, low key and seemed like a local place. I had the Hop Lion and a sausage pizza. Then we made our way to Pfriem Brewery (1.5 hour wait!) and had a dinner of King Salmon from the Hood river, and a burger with pastrami on it. I had the beer sampler. Good dinner, with a nice view of the river.
Then we made our way to Salt and Straw in Alberta, for a nice waffle cone of wildflowers, and pear and blue cheese ice cream. yummy.
Day 5
Last day in Portland. Woke up late, taking it easy today.